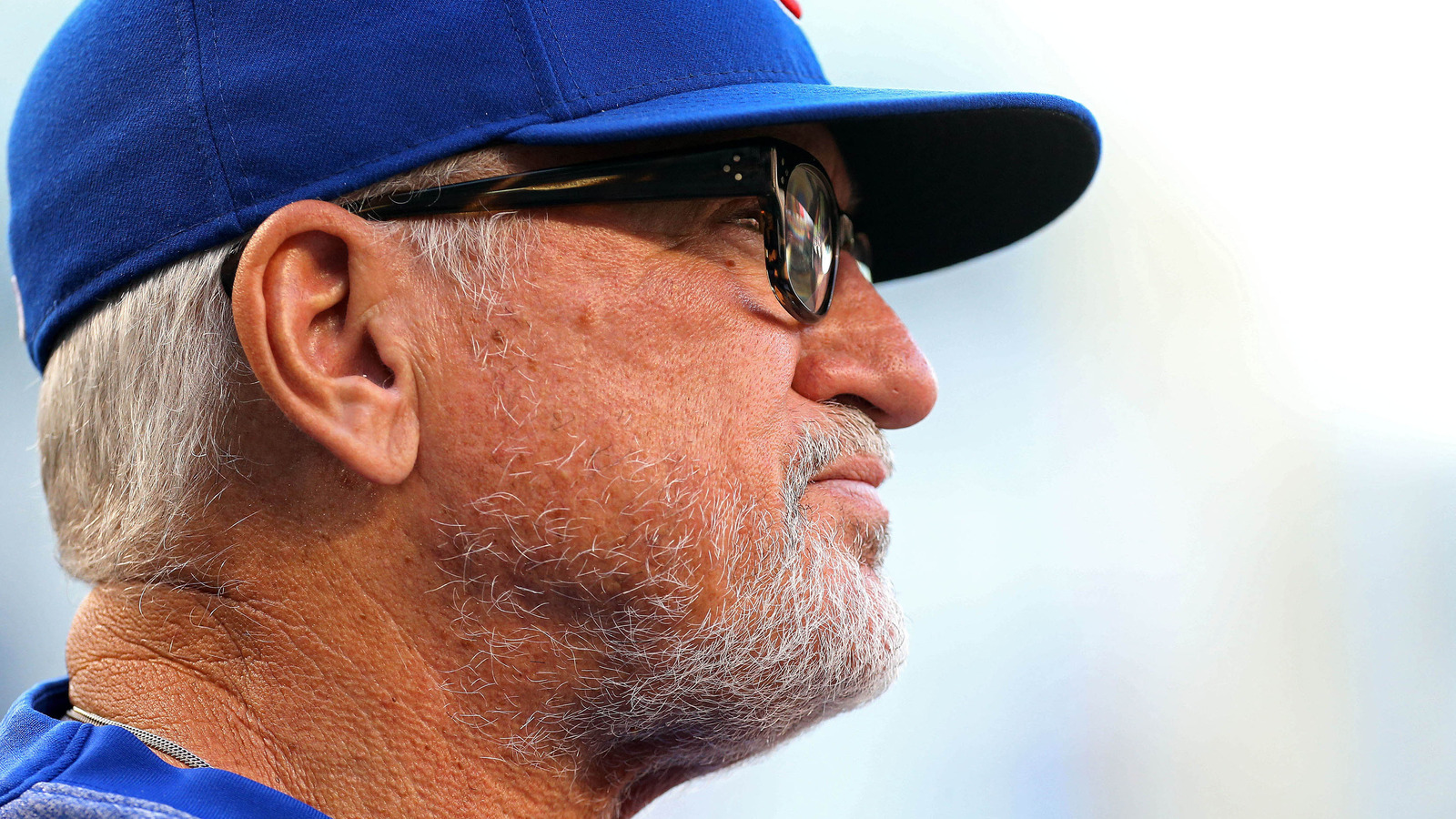 Cubs manager Joe Maddon is presiding over a team suffering through a World Series hangover.
Geoff Burke-USA TODAY Sports
If you're a fan of a struggling MLB team and thinking to yourself, "No worries, there's a lot of baseball left to play, it's still early," you may want to think again. There is indeed a lot of baseball left to play, but it's not that early any more. Half of the MLB season is done.
Before we look into the second half, we have to ask ourselves what the main takeaways from the first half were?
What's going on with the Cubs? Are they struggling, or just playing to the level of other recent champs? Is the Tommy John epidemic really getting stronger? Are we ready for a changing of the guard in the National League? How good have the Diamondbacks been? Is baseball in New York regaining a sense of normalcy? And can anyone stop the Dodgers and Astros?
What have been the eight most prevalent takeaways from the first half of the 2017 MLB season?
World Series hangovers are a real thing
To say that the Chicago Cubs have been a disaster in 2017 would be wrong. They are still well in the thick of the National League Central race. Still, the 2017 season hasn't lived up to expectations. The Cubs have won 200 combined games over the last two seasons, are one of baseball's most talented rosters, and of course, are defending World Series champions. A team that good should not be hovering around .500 for three months.
But Chicago is not exactly alone. In fact, recent trends suggest that the now 39-39 Cubs are right where they should be, if not slightly better.
In addition to missing the playoffs, the previous four World Series champions experienced an average drop off of 15.5 wins during the following regular season. Even that number is brought down by a modest four-game drop between 2014 and 2015 for the Giants. The other three champions regressed by 14 games or more. From that respect, Chicago is right about where it should be.
World Series champions are naturally playing deep into the year. So, their bodies have an extra month's worth of strain on them. Now to be fair, the World Series loser has to do the same thing and each of the last four runners up have reached the playoffs, with the 2015 Kansas City Royals famously winning the World Series after losing the previous year.
But while that's true, the losers don't have to deal with the same number of offseason distractions. They're not going on talk shows. They're not taking dozens of interviews. The champs are. On top of that, no team since perhaps the 2004 Boston Red Sox has done that more than the Cubs did after winning their World Series. Think about it. David Ross — the team's third string catcher — was on "Saturday Night Live" the weekend after winning and the next "Dancing with the Stars" season. Most teams don't even have three catchers. Chicago's was a celebrity.
Ross has retired but the fact that he got so much attention is a sign that for guys like Anthony Rizzo and Kris Bryant, it was far from a regular offseason. When a baseball player's routine is messed with, it usually shows in the results.
Like the previous four champions, the Cubs are finding that out first hand.
Tommy John epidemic not going away
On Wednesday, it was announced that Seattle Mariners lefty Drew Smyly would undergo Tommy John Surgery. Between the majors and minors, Smyly will be the 50th player to undergo the surgery in he calendar year of 2017. By comparison, 83 professional baseball players had the surgery in 2016, with 52 coming before July 1.
It's been perhaps baseball's greatest trend of the last 20 years and is clearly not going away.
In one respect, it makes no sense. The overwhelming majority of Tommy John patients are pitchers. Major League Baseball is incredibly dependent on pitch counts and the lower you go, the more strict the pitch counts are. That should mean less strain on the arms (or specifically elbows) of these pitchers. But clearly, the Tommy John epidemic is not going away. So, what gives?
One idea is that by and large, Tommy John Surgery has a high success rate. While it takes more than a year away from a pitcher's career, plenty of pitchers have come back from the surgery and been as good as ever. The more success stories that we see, the less hesitant people will be to undergo the surgery.
But in truth, it's a sign of a more disturbing trend that starts well before these players reach professional baseball. All sports, including baseball, are becoming more specialized. Rather than playing baseball in the spring and summer, kids are playing baseball essentially year-round. The human arm wasn't exactly designed to throw fastballs to begin with. It certainly wasn't designed to throw them throughout the year. By the time these pitchers get into their early 20's, their arms are worn down, if they haven't been already.
Until that trend changes, don't expect the Tommy John epidemic to go away any time soon.
Baseball's future continues to be in good hands
In terms of young talent coming into baseball, it's been a pretty darn special decade. Kris Bryant and Bryce Harper have each won a National League MVP Award, while Mike Trout has won two American League MVP's. Trout will turn 26 in August, and he's the oldest of the three.
Additionally, while they've yet to win MVP's, guys like Francisco Lindor, Carlos Correa and Corey Seager have become absolute stars at a young age. Mind you, that's only a small percentage of the young talent that's broken in over the last several years.
The 2017 season has been no different.
New York Yankees rookie Aaron Judge has taken the league by storm since the first day of the season. He leads the American League in all three Triple Crown categories and tops all of baseball in home runs (27).
Of course, a pretty special rookie has emerged on the West Coast, as well. Los Angeles Dodgers rookie Cody Bellinger leads the National League in long balls (24) and trails only Judge in all of baseball. At face value, that's impressive. And interestingly enough, there's even more to Bellinger's story.
Bellinger has 24 home runs despite not debuting until April 25 or hitting his first long ball until April 29. He's on pace to hit nearly 50 home runs, despite missing nearly a month of the season.
Baseball entered 2017 with a fantastic group of young stars to build around. Two more have emerged, and they happen to play in the country's two biggest markets for two of the league's flagship franchises. If you see Rob Manfred walking around looking like the Cheshire Cat, there's no need to wonder why.
Are things back to normal in New York?
There have been exceptions, but the general status quo in Big Apple baseball has had the Yankees as the dominant team, with the New York Mets coming in second. One of those exceptions has been the last few years.
The Bronx Bombers have made the playoffs only once since getting swept out of the 2012 ALCS, and that was a loss in 2015's Wild Card Game. In Queens, meanwhile, the Mets won the National League pennant in 2015 and returned to the playoffs in 2016.
That trend has reversed in 2017.
Led by Judge and an overall strong youth movement, the Yankees have been one of the junior circuit's best teams in 2017. They've been atop the American League East standings for most of the year. While a recent cold run has knocked them to second place, the Bombers still occupy the American League's top Wild Card spot by two games.
The Mets have struggled. They've been under .500 for most of the season, are 11.5 games behind the National League East leading Washington Nationals, and are 10.5 games out of the second Wild Card spot.
The tide in New York baseball is certainly shifting, and shifting to a familiar state.
Changing of the guard in the National League
While we're on the subject of shifting tides, a look to the standings shows a relatively unfamiliar sight. Neither the Giants or St. Louis Cardinals are terribly close to playoff contention.
To say that the decade has been kind to these two teams would be an incredible understatement.
But 2017 has been down for both teams. Some of this has to be attributed to surprising starts from teams like the Milwaukee Brewers, Colorado Rockies and Arizona Diamondbacks, as well as the continued strong play from NL stalwarts like the Nationals and Dodgers.
But these two teams have definitely slid hard in 2017.
San Francisco has been one of baseball's worst teams. The Giants have never been above .500 during the season and haven't even been at .500 since winning the second game of the year. It's been a disastrous season for a team on a 100-loss pace.
St. Louis has been slightly better. The Cards haven't been quite as down as the Giants and the general mediocrity of the National League Central is keeping them within shouting distance of the division lead. That may provide a few more reasons for optimism, but it's hard to really see this team going on an extended run.
Even if we just assume that the Brewers are going to fold, does St. Louis really have what it takes to chase down Chicago? The Cubs have been completely stagnant for essentially the whole season and still sit atop the Cardinals in the standings. Chicago has the better roster. St. Louis has to be taking advantage of the Cubs' slow start and getting at least a small lead over them. But that hasn't happened.
The Giants and Cardinals dominated the senior circuit for the early portion of the decade. For five straight World Series, the National League was represented by one of these teams. But 2017 appears to be a sign that the 2010-2016 dominance doesn't matter anymore.
Baseball's unwritten rule book may be dying
If you're a person who thinks that baseball's unwritten rule book is a sacred "document" and should be honored to the letter, 2017 has been a rough year for you. If you're a person who responds to logic, it's been the exact opposite.
The Red Sox and Baltimore Orioles had a feud early in the season and at pretty much every turn, Manny Machado was front and center. In an April series between the two teams, Machado slid late into Dustin Pedroia, hurting the Boston second baseman. Later in the series, Red Sox pitcher Matt Barnes threw high at Machado. Predictably, Machado was not pleased. Somewhat unpredictably, Pedroia was seen on camera distancing himself from Barnes' actions.
Memorial Day brought another assault on the unwritten rules. Giants pitcher Hunter Strickland threw at Washington Nationals star Bryce Harper, who had homered off of Strickland in each of their two prior meetings. The meetings took place in 2014. The HBP resulted in a brawl between the two.
Strickland earned plenty of scorn. But he had to earn the admiration from the people who think Harper is just a showboat punk who got what he had coming to him, right? Well, not really.
Baseball's unwritten rules are normally defended by former players, many of whom continue to have prominent voices. But to the extent that Strickland had defenders, they remained silent.
The most recent blow was struck by San Diego Padres manager Andy Green. In a series against the Cubs, Rizzo had crashed into and hurt San Diego catcher Austin Hedges. Logically, Rizzo was going to wear a fastball at some point. It never happened.
Murphy not only made starting pitcher Jhoulys Chacin promise that he wouldn't throw at Rizzo, but denounced the practice.
"What do you accomplish by hitting somebody? You accomplish nothing, he said, per Mike Oz of Yahoo Sports. "You put a man on first base, and you give them an opportunity to win a baseball game. … You don't, all of a sudden, gain the high, moral ground because you chose to retaliate. You don't, all of a sudden, get to pound your chest because you were man enough to throw a ball at somebody's back. I think it's absolutely asinine to even take that approach."
Is this a sign that from now on, baseball will be governed by the actual written rules of the game and not some confusing and inconsistent code? We can only hope.
Diamondbacks all-in plan working one year later
The Diamondbacks 2016 season was a trainwreck. Arizona was aggressive in the offseason leading into 2016 but when it came time to play baseball, the Diamondbacks fell flat. Arizona went 69-93 and finished in fourth place in the National League West. At the end of the year, general manager Dave Stewart and manager Chip Hale were fired.
But in 2017, Arizona has gotten just about everything it was hoping to get in 2016. Zack Greinke has been one of baseball's best pitchers. In fact, the Diamondbacks starters have the best ERA in baseball, while their relievers are fourth.
Arizona has been one of baseball's best offensive teams, as well. A lot of that can be attributed to Paul Goldschmidt, who is probably the NL's MVP of the first half.
But this lineup is far from a one-trick pony. The Diamondbacks rank fourth in runs scored, seventh in OBP and fifth in slugging. Just imagine how good the offense can be when A.J. Pollock returns.
Stewart said in April that he felt he deserved credit for the team's success. Some of that's not entirely right. Stewart oversaw the trade for Miller, who was awful in 2016 and is now recovering from Tommy John Surgery.
But it's not completely wrong, either. Arizona is on pace to win 104 games. While the general manager and manager changed from 2016 to 2017, the on field talent remained pretty similar. A lot of that talent being on the Diamondbacks can be attributed to Stewart.
Blistering starts from the Los Angeles Dodgers and Houston Astros
Of course, while the Diamondbacks have enjoyed a tremendous first half, they're still relegated to Wild Card status. For that, they can thank the Dodgers, who are on a 107-win pace.
Bellinger has been a tremendous shot in the arm. But at .298/.403/.506 and 12 home runs, Corey Seager has been a steady catalyst in the offense. Even Yasiel Puig (.251/.331/.458, 14 home runs) is in the midst of the most complete offensive season of his career.
The pitching has also been tremendous. Clayton Kershaw is allowing more home runs than usual. But he still has a 2.47 ERA, 0.92 WHIP, a K/9 rate of 10.13, and some of the nastiest stuff in baseball.
Behind Kershaw, Kenley Jansen anchors one of baseball's best bullpens. The ingredients are certainly in Los Angeles for the Dodgers to finally get to the World Series.
But as good as Los Angeles has been, the Dodgers have baseball's second best record.
The league's best record resides in Houston, where the Astros are winning two of every three games and on pace for a 108-win campaign.
Houston's pitching staff has been beaten up, but is still one of the best in the league. Offensively, the Astros are a juggernaut. Jose Altuve, George Springer, and Carlos Correa are the leaders but really, the Houston offense doesn't have any holes.
There's always a random element to the MLB playoffs. But based on pure talent, it's hard to imagine anyone derailing a Los Angeles/Houston World Series.