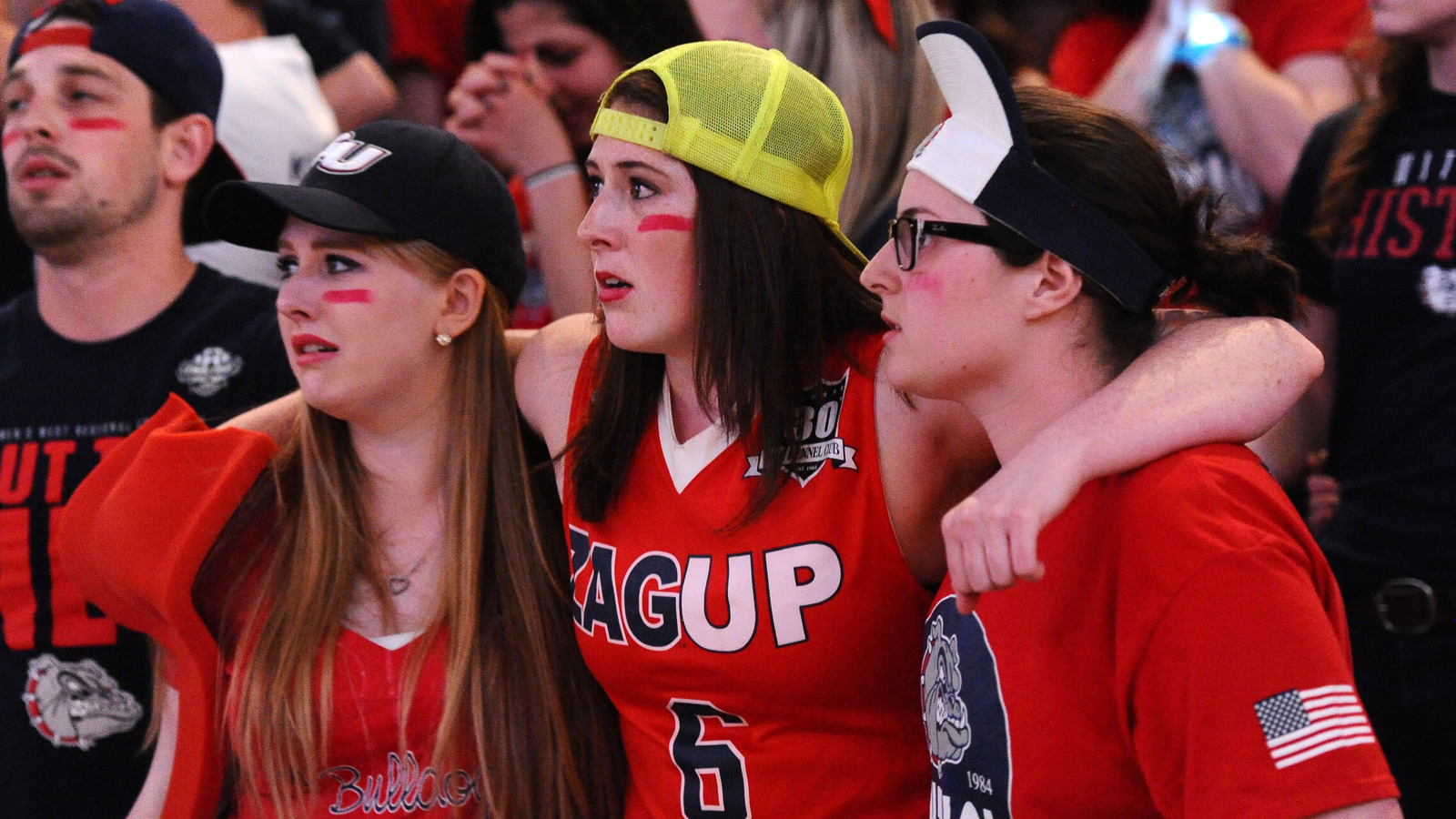 Gonzaga fans have plenty to be excited about for the future.
James Snook-USA TODAY Sports
No sport features the insanity that college basketball is able to muster each and every year. Not only does college hoops feature 351 teams playing every night of the week for four straight months, but it gives us the gift of conference tournaments and the wildness of March Madness.
Every college basketball season has its own charms and highlights, though every single one is as exciting as the last. This season was no exception, making waves that we'll remember or feel the effects of for years to come.
With the 2016-2017 season now in the books, here's a look at the 10 biggest takeaways from theyear.
1. Gonzaga pushed mid-majors forward
Though the Zags lost in Monday's championship game, the Bulldogs reaching the final game was historic. Gonzaga was the first mid-major program to play for a title in five years, but the first school without a football program to play for the national championship since Seton Hall in 1989.
In recent seasons, top seeded mid-majors have not lived up to the task. Gonzaga reaching the Final Four as a top seed, while Kansas and Villanova did not, could do wonders on Selection Sunday moving forward. Seeing is believing. Committee members who in the past had been less trusting of mid-major resumes could now be more comfortable rewarding small school achievements.
2. Wichita State wants to upgrade its status
The Shockers, on the other hand, are sick of playing the mid-major game. Reports say Wichita State is exploring the opportunity of joining the American Athletic Conference in the near future. After being questionably seeded by the committee this year, and in years past, Gregg Marshall and the Wichita State administration could be looking to upgrade the program's opportunities.
This would be huge for not only the Shockers, but both conferences.
After losing out on the re-alignment merry-go-round, UConn and Cincinnati would be glad to welcome a strong basketball program to the AAC.
The Missouri Valley would be devastated to lose Wichita State, only a few years after Creighton departed for the Big East. The conference was once the class of the mid-major conferences in the mid-2000s, but can't afford to have a another premier program bolt for greener pastures.
3. The one-and-done era is alive and well
No one expected the amount of players spending only one year on campus before heading to the NBA to slow down, and the trend has continued with fervor.
This season saw the likes of Lonzo Ball at UCLA, Josh Jackson at Kansas, Markelle Fultz at Washington, Dennis Smith at NC State, and Malik Monk, De'Aaron Fox, and Bam Edebayo at Kentucky, among a host of others, leave for the draft. Many of the best teams in the nation were fueled by freshman talent. Statistical leaderboards were dominated by first year phenoms, many of whom have played their final game in college basketball.
Purists have let their disdain for the system be well known, but the sport is better off with one-year cameos from these players than never having a chance to showcase their talents. Removing all, or many, of these players from this season's action would have seriously diminished the state of college basketball.
4. Teams assimilating one-and-dones with veterans struggled
While the players bound for the NBA after one year in college dazzled audiences, none were able to deliver their teams any profound success in March. Ball, and fellow likely one-and done TJ Leaf, made UCLA exciting, but the Bruins failed to reach the Elite Eight or win the Pac-12.
Duke, with Jayson Tatum and Harry Giles joining a solid team of veterans, won the ACC Tournament after a wildly rocky season, yet couldn't find its way to the second weekend of the NCAA Tournament. Kansas' streak of Big XII regular season titles continued, though Josh Jackson was suspended for a Big XII Tournament loss and the Jayhawks failed to reach the Final Four yet again.
Fultz and Smith's teams didn't even make the NCAA Tournament and struggled against more seasoned teams this season. Michigan State, attempting to mash together a highly-ranked freshman class and a crop of upperclassmen, ended up looking exactly like a clumsy mash-up and never found their groove.
Final Four weekend featured just two players who could be headed to the draft after one college season — Gonzaga's Zach Collins and North Carolina's Tony Bradley, though both came off the bench for their respective teams as role players. No player likely to be picked in the top ten of June's draft played in Phoenix this past weekend.
5. Seniors still found success
One the other side of the spectrum, college basketball still has room for senior stars. The two players collecting most of the postseason individual awards, Frank Mason from Kansas and Josh Hart from Villanova, were seasoned seniors.
Mason was the epitome of a senior point, driving everything the Jayhawks looked to accomplish on offense. Without his steadying hand and never-ending shot-making, Kansas' penchant for making dramatic, last minute comebacks likely never comes to fruition.
Hart, meanwhile, paced Villanova's effort to repeat as champions. Winning consecutive titles requires a ton of luck and perfect circumstances, both of which eluded the Wildcats. Phil Booth's injury severely plagued what Jay Wright's team could do at both ends of the floor. Omari Spellman was ruled academically ineligible before the season ever tipped off, but Villanova had been counting on him being there. His presence was sorely missed. That being said, Villanova still won the Big East and earned the top overall seed in the Big Dance, in large part to Hart's magnificent season.
6. The Big East is a beast again
Speaking of Villanova, the Big East bounced back in a big way.
Reports of the league's demise a few years back were greatly exaggerated. Even with the departures of Syracuse, Pitt, BC, UConn, and others, the Big East has remained a strong basketball conference.
Seven of the league's ten schools reached the NCAA Tournament this season. Xavier played Cinderella, reaching the Elite Eight, while Butler also found its way to the Sweet 16 and Villanova was the tournament's top seed, but lost early.
Of the three schools not reaching the Big Dance, two are undergoing parallel rebuilding plans. Chris Mullin just finished his second year at the helm of his alma mater, raising the Red Storm's final KenPom ranking from 211 in 2016 to 99 in 2017.
Georgetown will now try a similar strategy, having a star of the past return to coach. Patrick Ewing will lead the Hoyas next season, attempting to bring the program back to the heights it saw when Ewing played in DC.
7. New coaches at struggling power conference schools
Other schools also took a ride on the coaching carousel at season's end, many of which can be pigeon-holed into one category -– power conference schools currently struggling on the hardwood.
Illinois was once a strong Big Ten contender under Bill Self and Bruce Weber, but has failed to find success since the departure of those big name coaches. The Illini completed a coup in their coaching search, stealing Oklahoma State head coach Brad Underwood after just one season in Stillwater by tripling his salary. The administration in Champaign is clearly committed to trying to win.
Missouri also swiped a coach from another power conference school, signing Cuonzo Martin from Cal. Martin has not proven himself to be a great coach, but his arrival is underscored by another huge development. Along with Martin comes recently re-committed five-star recruit Michael Porter, Jr. Jump-starting a re-build will be much easier with the uber talented Porter on-board for year one.
Porter became available after Washington fired Lorenzo Romar. The Huskies haven't been to the NCAA Tournament in five years and were 34-56 in the Pac-12 in those five seasons. Last season's team featured two players drafted in the first round and this year Markelle Fultz is a top-3 pick, but despite that level of talent, Washington could not find wins. The situation in Seattle is at least bright enough to attract Syracuse assistant coach, and "coach-in-waiting", Mike Hopkins to replace Romar.
8. Defense was king
This season, from November to April, showed the value of defense in college basketball.
All four teams in Phoenix for the Final Four ranked in the top-20 of defensive efficiency. Other conference champions could also boast than claim, including Villanova, Kentucky, Wichita State, and Cincinnati.
As the NCAA continues to tweak the rules about block-charge calls, handchecks, and off-ball defense, teams that have proven themselves able to adapt and adjust have found the most success across the country.
Teams like Gonzaga, Baylor, and Villanova showed the value of an active match-up zone that can smother shooters without piling up fouls. Even North Carolina, known for a fast-paced offense, won the championship on the merits of the Heels' defense. Kennedy Meeks manning the paint and the North Carolina perimeter players locking down opponents' penetration allowed them to quickly transition into Roy Williams' high-tempo offense.
9. Rule changes could be in the future
No one game is worthy of shifting the entire rulebook of a sport, but Monday's championship game might do just that. The amount of fouls called, on both teams and at both ends of the floor, was appalling and created a sloppy game to watch.
The title game was no exception. Gonzaga's battle with West Virginia may have been the worst example in the tournament, featuring 52 fouls in 40 minutes of play.
Thankfully, help could be on the way.
The women's game has already shifted to playing quarters rather than halves, meaning team fouls reset after just 10 minutes of play. In the men's NIT this season, the NCAA toyed with this concept while still playing two halves. Rather than stopping the game for a quarter-break, each team's fouls reset to zero at the midway point of each half. This could be a nice compromise that finds its way to the rule book next season.
10.Changes at Indiana
When one of the nation's biggest, most noteworthy program undergoes major changes, the entire college basketball world turns its attention that direction and feels the ripple effects. Just one season removed from an outright Big Ten regular season championship, Indiana fired Tom Crean as head coach.
Crean has always had his quirks and misgivings, but had seemingly turned a corner in Bloomington. This season was a disappointment without question, exacerbated by a season ending injury to OG Annunoby. A short leash from a rabid fanbase led to Crean's dismissal anyway.
Archie Miller steps into the head coaching positon at Indiana, a major step for the former Dayton head man. His recent teams have found success despite not featuring any players over 6-foot-8. Miller has proven himself a capable in-game strategist and top notch player developer. The Hoosiers are banking on Miller's time as a top assistant at Ohio State proving his abilities as a recruiter. If he can't find success, he'll find the fanbase as volatile as Crean did in his final years.
Shane McNichol covers college basketball for Larry Brown Sports. He also blogs about college basketball and the NBA at Palestra Back and has contributed to Rush The Court, ESPN.com, and USA Today Sports Weekly. Follow him on Twitter @OnTheShaneTrain.